Icons help you to choose suitable lunch box
2022-11-28 22:00
Icons help you to choose suitable lunch box
There are many kinds of lunch boxes on the market, It is headache for us to choose a suitable lunch box, to help you make your decision quickly, please follow me to realize the icons on the body of BOX lunch box.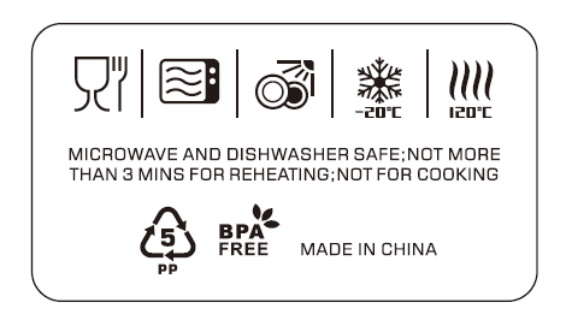 " For food contact ": BOX lunch box passed FDA and LFGB certificates, the material is safety to contact with food.

"Microwave Safe": BOX lunch box can be heated in the microwave.Remark: Not more than 3 mins for reheating; not for cooking.

"Dishwasher Safe": BOX lunch box can be washed in the dishwasher machine freely because of round corner design.

"Snowflake Warning": BOX lunch box can be stored at -20℃ temperatures.

"High temperature warning": BOX lunch box can withstand temperature of 120°.

"recycling symbol" all the material of BOX lunch box is fresh PP or bamboo fiber, which is recyclable, number 5 is PP, number 7 is bamboo fiber.

"BPA Free",BPA are not in use in BOX lunch box after tested by SGS.

"Made In China", BOX lunch box is our own design, and produce in-house.
Get the latest price? We'll respond as soon as possible(within 12 hours)